Date:
Monday, 20 November, 2017

to

Tuesday, 21 November, 2017
This week, the University of Alicante, Spain, has been in charge of hosting the first meeting of the consortium in the Barbara project after Kick-off. The event has gathered representatives from all partners involved in the project, who have travelled to Alicante to show and discuss the results obtained during these first months. The meeting had comprehensive sessions and joint discussions on all work packages, so that all partners got the opportunity to listen to the recent advances from all aspects of the project, give their specific point of view and feedback and decide together the steps to take for further work until the next meeting in May 2018. The first results of the meeting already look very promising.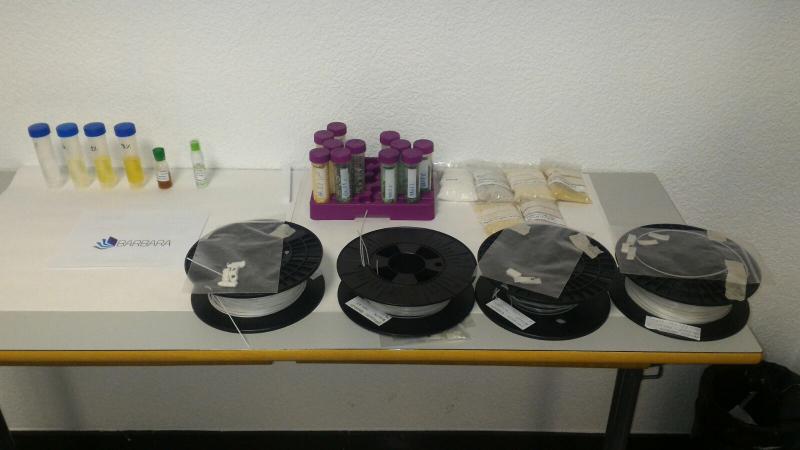 Stand with samples produced by different partners: From left to right, different concentration of lemon dye extracts, antimicrobials and fragrances, nanoclays incorporating dyes and pellets and spools from polyamide-starch blends.
As part of Work Package 1 (WP1), different extraction and purification processes have been developed and optimized, as to get natural lemon fragrance, antimicrobial extracts and concentrated yellow dye from lemon waste residue as well as starch and arabinoxylan hemicelluloses from broken corn and corn fibre residues. The yellow dye will serve as primary color to complete the whole palette with green and blue from broccoli and pomegranate waste. The antimicrobial extracts showed excellent antimicrobial performance, as compared to other natural compounds, and pose a great potential as additives for sustained release in self-sanitizing surfaces. Analogously, the fragrance will potentially provide a pleasant sustained odour through the life-time of the embedded products.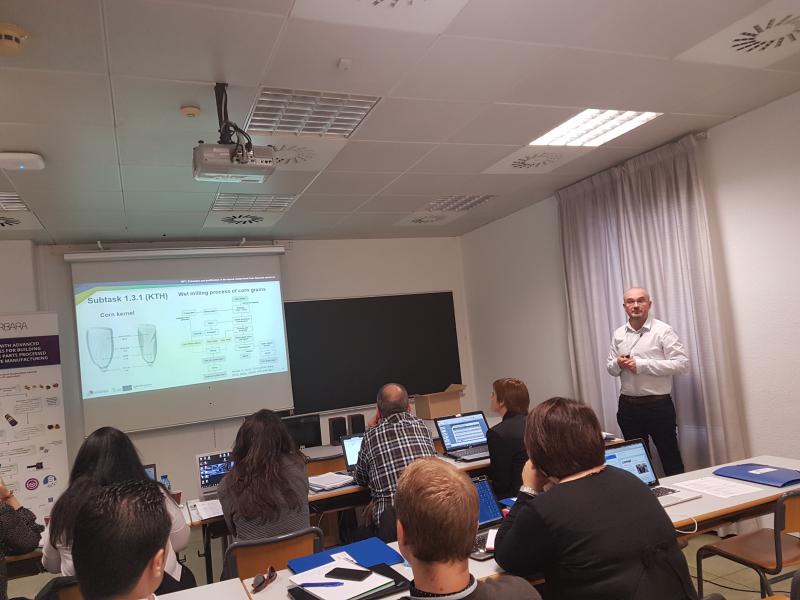 Prof. Francisco Vilaplana (KTH) explains the extraction process from corn residues.
As part of WP2, new promising steps have been taken in the challenge of compatibilizing partially biodegradable polyamides with starches. The starches have been supplied by Cargill Inc. in these first stages while the polyamides are developed and supplied by Nurel ltd. In this sense and as partner in the project, Nurel has developed a "Barbara blend", specially desiged for 3D filament extrusion and of >65% bio-based origin. Optimization tests during these months carried out by joint collaboration of KTH, TECNO packaging and UNIPG have contributed to define which starch and polyamide combinations to proceed with and the best compatibilization strategies in this direction.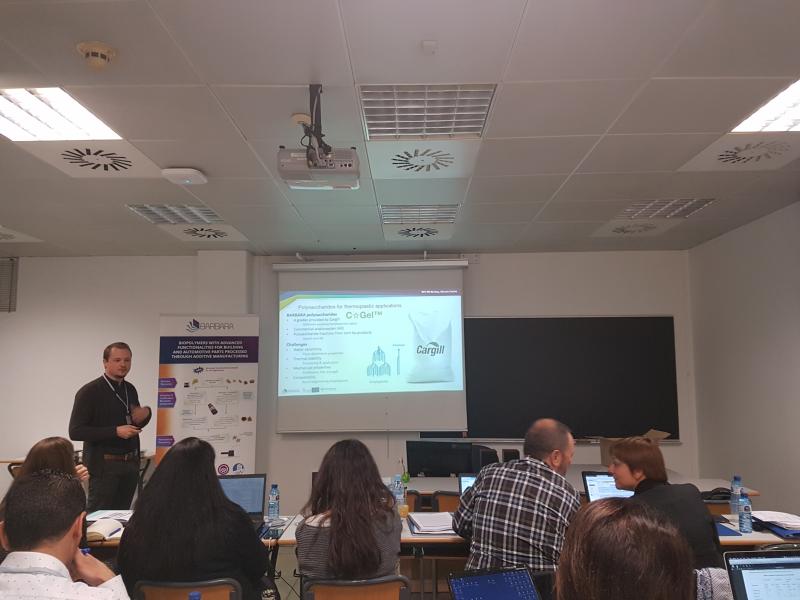 Dr. Balázs Imre discusses results from different compatibilization techniques.
The project seems to run ahead of schedule so far for work packages 3 and 4, since there were several contributions from TECNO and UNIPG. TECNO is already testing a new heading for the 3-D printing prototype, while partners at UNIPG have already developed templates and specific indications to gather the right information to perform both a Life Cycle Assessment (LCA) and Life Cycle Costing (LCC) analysis
.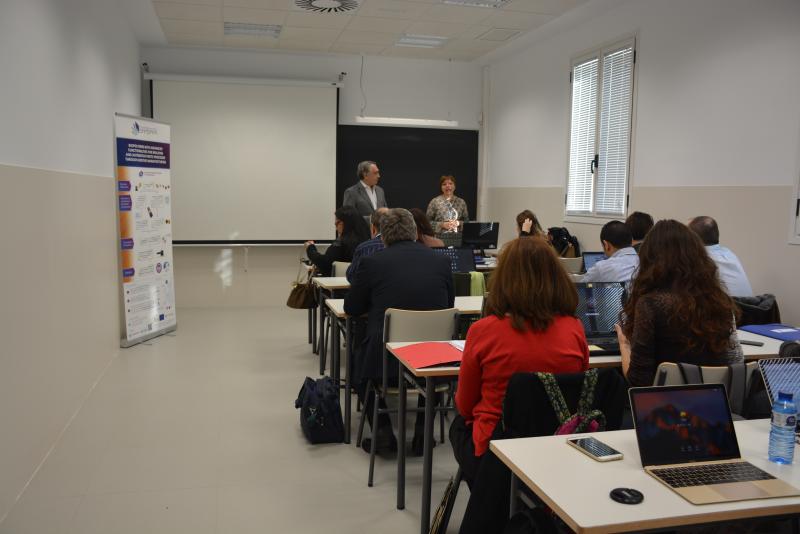 Research Secretary director at the UA, Prof. Juan Mora and host head of the UA team Prof. Mª Carmen Garrigós welcome alll assistants and partners
The fragrance,antimicrobial extract and the dyes from WP1 are to be incorporated into the materials generated in WP2 from the corn extracts in WP1, which will thereafter be used to 3D-print the end-products, particularly dashboards and door handles for cars in Centro Ricerche Fiat (CRF).A full gallery of pictures from the meeting is available at our social media profiles.
We will keep you posted on the latest news about the activities of our partners. Follow us on facebook, twitter and linkedin !!!
Location:
Alicante City Centre ; University of Alicante, main Campus